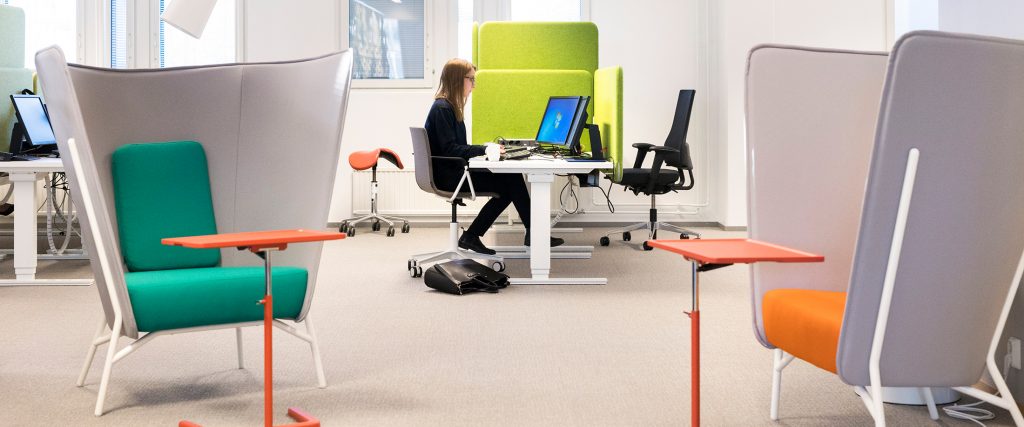 Job satisfaction increased, and rental costs decreased at the State Treasury and the Finnish Patent and Registration Office
The State Treasury and the Finnish Patent and Registration Office wanted to update their working methods and improve space utilisation. Now their new type of multi-locational work environment is the envy of others. Moving to the same premises and using shared services considerably reduced costs.
Sörnäisten rantatie 13, Helsinki
Users
The State Treasury (2 floors)
The Finnish Patent and Registration Office (3 floors and customer service facilities at street level)
---
Square metres
15 672
m2, including a conference centre, restaurant and civil defence shelter
---
Shared facilities
Conference centre, personnel facilities and gym, and personnel restaurant
---
SPACE EFFICIENCY WAS

27,5

m2 / man-years

SPACE EFFICIENCY NOW

13,5

m2 / man-year
TOTAL SAVINGS

1,6

EUR million / year
Targets
State Treasury: We needed smaller premises
We have been located in the building on Sörnäisten rantatie even since it was built in 1984, but we now have fewer employees, so the building is too big for us. Even though we had taken on subtenants, there was still 28 m2 of office space per employee, which was far too much. Our open-plan office no longer supported modern ways of working in our multi-locational work environment. Our rental agreement was coming up for renewal at the end of 2017, so we started to think about moving elsewhere. However, new premises were not easy to find as we need our own stand-by power plant and bank vault.
Head of Division Maritta Fromholtz, Senior Risk Director Juha Pietarinen and Deputy Director Lea Hartikainen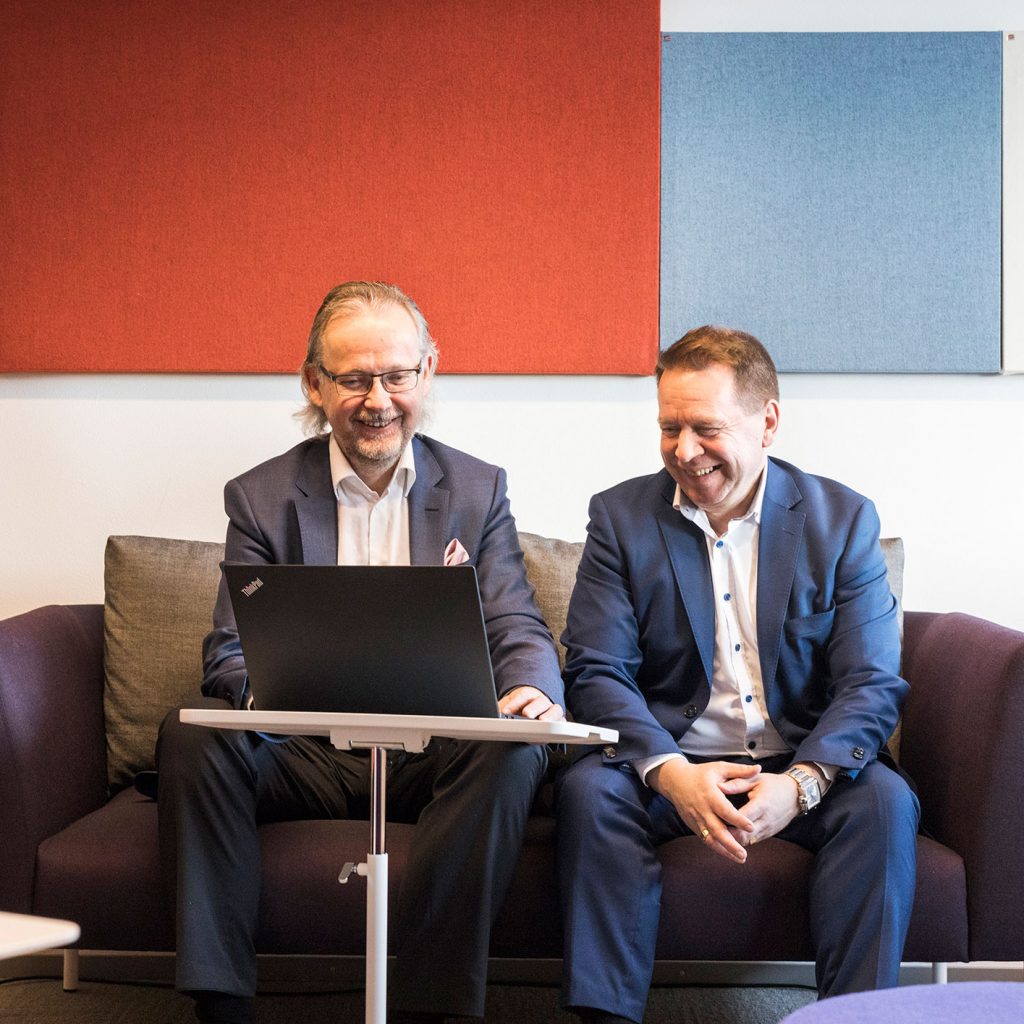 Targets
Finnish Patent and Registration Office: Smooth-functioning work environment
Our old office building on Arkadiankatu in Helsinki no longer complied with the Government Premises Strategy: it was not a government property and the amount of office space per employee was almost 30 m2. As our rental agreement was coming up for renewal, we started planning a move to new premises with the Finnish Tax Administration, but the building project got stuck on the planner's table and we were in a hurry. Previously, our employees took care of various tasks that are usually outsourced, such as watering plants, cleaning and acquiring furniture. We wanted to focus on our core competence and find a smooth-functioning work environment.
Our employees do demanding expert work and most of them used to have their own room or a room shared with another person. The most common worry was having to give up their own room and loss of a quiet work environment.
Deputy Director General Eero Mantere and Project Manager Jukka Meriläinen
This is how we did it
Senate: Turnkey proposal
We asked the State Treasury for its premises options: staying at its old address, moving to temporary substitute premises or moving to completely new premises. The Finnish Patent and Registration Office had to move away from the centre of Helsinki, as the Government Premises Strategy states that only ministries and special premises can be located there. The Finnish Patent and Registration Office needed easily-accessible premises for its customer service and the State Treasury needed its own dealing room. The aim was to find suitable premises from the government-owned properties. The solution was a multi-user location, where each organisation works in its own work environment and pays for the shared facilities based on use. The turnkey proposal, which included security services, furnishing and audiovisual equipment, is part of Senate's new strategy.
Construction Project Manager Tapio Jalo, Property Manager Kai Pekkarinen and Project Manager, workplace and facility solutions, Mirkka Laukkanen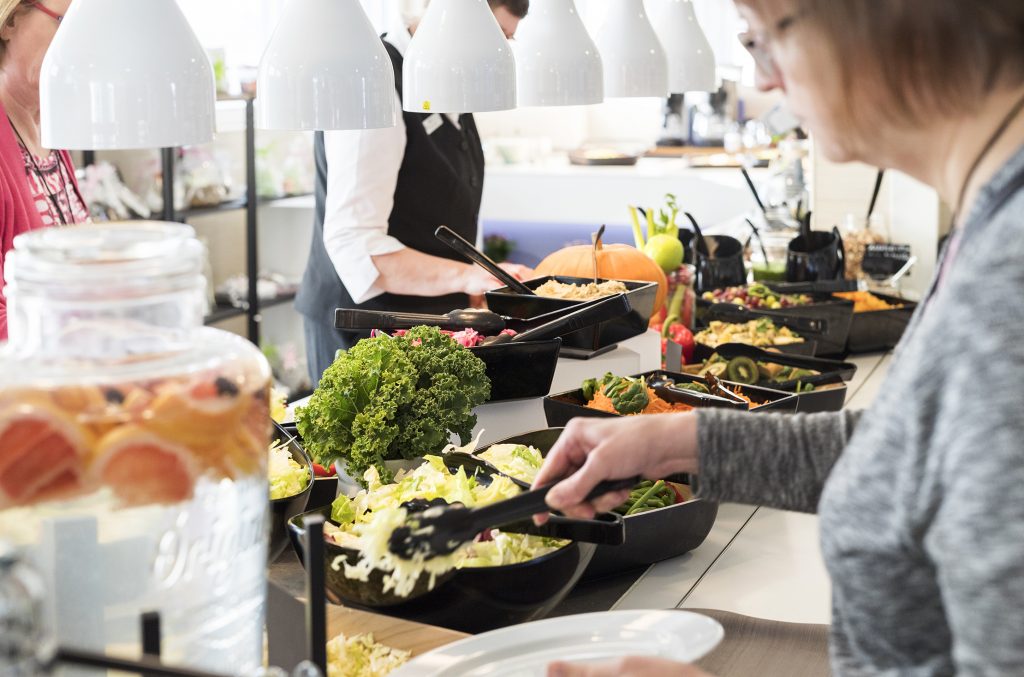 Senate's services
New premises solution
Support for change management and development of work environment
Supply and maintenance of moveable furnishings
Implementation of ICT infrastructure in cooperation with Valtori
Supply and maintenance of audiovisual technology
Conference centre and space booking system
Facility services: cleaning, lobby and guarding services
Security services: security system administration plus servicing and maintenance
Cleaning and property maintenance services
Restaurant services
Results
State Treasury: Highest ever figures for job satisfaction!
Our agency is 141 years old and we have never achieved such good results in our job satisfaction survey as we have since moving into our new premises. Our employees have already got to grips with the multi-locational environment and are accustomed to moving around to different workstations. The space efficiency per employee dropped to well below the 18 m2 limit required by the Government Premises Strategy, which has considerably reduced costs. The new raised security level work environment is also better prepared for preventing potential cyber risks.
Results
Finnish Patent and Registration Office: The numbers speak for themselves
Our new work facilities are actually quieter than our old individual offices. People respect the no speaking rule in the quiet area. There has been a lot of praise for the acoustics. When we moved we also updated our remote working guidelines and now it is possible to work remotely for up to three days a week. The numbers speak for themselves: job satisfaction improved, and customer satisfaction also remained high despite the move to a new address. Most importantly: our rental expenses were halved. This is very important for an organisation that functions entirely on customer payments.