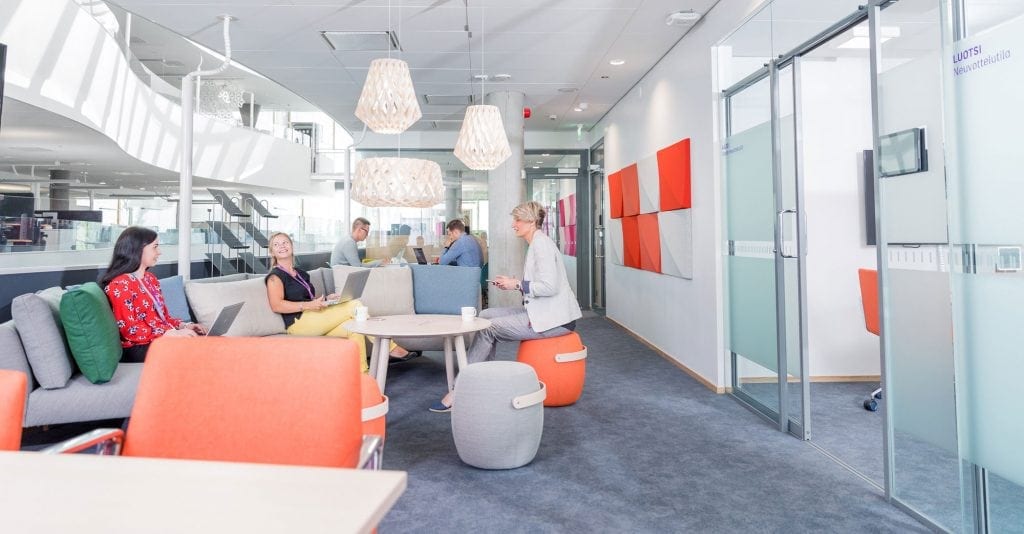 Activity-based environments require a new workplace culture
Activity-based environments require companies to adopt a completely new culture and ways of working and managing. As working environments develop, digital and social dimensions come together in physical places. Senate Properties promotes smarter government workplaces and comes up with new ideas and experiments on how we could work smarter.
What are activity-based environments?
Office jobs are no longer tied to a specific time, place or, most notably, enclosed office room. Work can be done everywhere you go – at home, on a train or in a coffee shop – and outside regular business hours.
Old inflexible office layouts do not support the modern way of working or the goals of working. This is where activity-based environments come in.
9 key elements of activity-based environments:
In an activity-based environment, work itself and the working environment become inseparable because they are seamlessly connected. Different tasks have their own ideal spaces.
A workstation in an activity-based environment is a great choice especially for those whose job requires them to interact with their co-workers. For confidential tasks or tasks which require concentration, activity-based environments have breakout rooms and quiet rooms. For phone conversations, there are soundproof phone booths and breakout rooms.
In addition to bookable meeting rooms, there are group work rooms. In an activity-based environment, meetings can be arranged in no time, where necessary.
Different informal meeting points, such as cosy nooks with recliners, facilitate the free exchange of ideas, brainstorming and catching up. In an activity-based environment, break rooms and dining areas can be used by different departments and organisations.
Activity-based environments have numerous advantages compared to old office layouts. No one has their own desk, but no one is also shackled to their desk. People are free to choose a working space that matches their task and personal preferences, which are not the same every day.
An activity-based environment requires electric height-adjustable desks so that everyone can customise the height. The same naturally also applies to desk chairs.
There is no one way of using activity-based environments, as every employee adapts the environment to suit their needs and preferences. However, an activity-based environment does require rules to work. For example, employees have to agree on the spaces where you can talk loudly and the spaces where you can focus on your work with no interruptions. When you need a quiet space, you can go to a communal "library room" or an individual breakout room.
Digital solutions and constantly developing information technologies make work possible wherever and whenever. Everyone has their own laptop and they stay connected via wireless networks and mobile connections.
Data are saved in the cloud and on network drives, so office spaces no longer require metres upon metres of shelf space to store paper copies and binders. Employees clear out their workstation when they are finished and carry their personal items with them in baskets or bags, for example.
Activity-based environments are a polarising concept. Those against them may have had bad experiences of working in an old-fashioned open office, which lacks the versatility and flexibility of activity-based environments.
Moving to a new type of office environment requires careful preparations, and managers must be able to listen to and alleviate employees' worries. To make the transition easier, employees can be included in the project early on through different workshops, for example.
The construction process of a new working environment takes on average two years. To make the most of this time, companies should evolve the workplace culture and give employees the time to adopt new working methods so that they are ready to fully utilise the new office space when they move in.
A new way of working can only be adopted if the management and the organisation on the whole trust individual employees, and if the individual employees are able to take on more responsibilities and manage themselves. Another key to a successful move is networking and taking responsibility for acquiring and sharing the information essential for your job.
Activity-based environments have no room for the old enclosed offices or old-fashioned management styles. Instead, managers work both in person and in spirit with the rest of the employees.
Activity-based environments do not replace the interaction between people, but create more opportunities for it. Comfortable meeting points and co-working spaces provide fertile ground for brainstorming and networking across organisation limits. This also applies to virtual tools, such as video meetings and Skype, which make it easier to stay in touch while saving time.
To facilitate co-working and virtual meetings, different spaces in the office also have mobile or wall-mounted screens.
Technological advances have freed people from workplaces and made it possible to work and have meetings outside the office. It is thus no surprise that in some traditional offices, up to 60% of workstations are empty at the end of the day.
Activity-based environments typically no longer have personal desks. This also means that the modern layout requires fewer square metres compared to traditional offices. In Finland, government offices have approximately 23 square metres per employee, but this number is constantly getting smaller. The goal of an activity-based layout is 18 square metres per person in remodelling and alteration projects, and 15 square meters in new builds, which translates into a significantly more efficient use of space and, consequently, cost savings. Moving to an activity-based environment does naturally require investments, but since the overall need for space is smaller, the total rent is often lower than before.
Since activity-based environments need less space for staff, one building and its communal spaces can often accommodate more organisations than before.
In other words, activity-based environments are not only suitable for new builds, but also for existing, older properties.