Eteläesplanadi 4, Valtion talo, TEM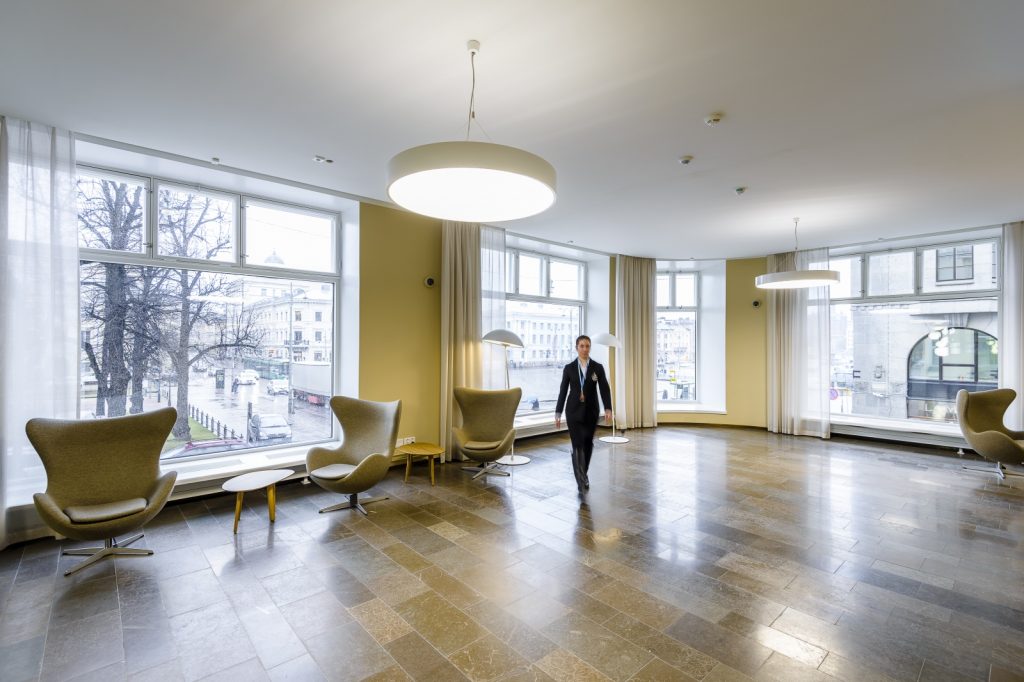 Responsibility management
Our responsibility work is based on our values, ethical guidelines, social responsibility policy, guidelines on good governance, binding obligations and our environmental management system certified to ISO 14001.
Senate Group has a certified environmental management system based on ISO 14001 and which has been extended to also cover the aspects of economic and social responsibility. The environmental management system is applied to property management, maintenance, construction management and letting as well as to associated services and functions in both unincorporated state enterprises.
Senate's Board of Directors has adopted the Group's social responsibility policy, which defines the principles of social and environmental responsibility to be complied with in the activities of the unincorporated state enterprises and which outlines reporting, management and responsibilities.
Social responsibility management
Under our Code of Conduct, Senate Group undertakes to comply with an exemplary employer policy. The activities of each Senate employee must be open, independent and reliable. Group employees may not demand, accept or take receipt of financial or other benefit that jeopardises these operating principles.
Under our equality and non-discrimination plan, Senate Group operates in such a way that no-one is put into an unequal position or discriminated against on the grounds of their gender, belief, age, pregnancy, parental leave, military service or any other similar characteristic.
Separate guidelines have been drawn up for supplier network management and the prevention of economic crime.
Financial responsibility management
Financial responsibility at Senate Group means efficient and productive use of real estate assets and preserving their value. This can be done if the income available from the assets can be used to cover all the costs arising from the use and maintenance of the properties and keeping the properties up to date.
The Parliament of Finland decides on the service and other operating goals of the unincorporated state enterprise. The Ministry of Finance is responsible for the financial guidance of Senate Group's unincorporated state enterprises.
Within the framework of the borrowing authority granted by Parliament, the unincorporated business enterprise may take out loans and finance its investments in this way. Being off-budget, compliance with commercial principles and financial administration highlight the responsibility of the unincorporated business enterprise. However, an unincorporated state enterprise does not constitute separate assets and the Government is ultimately responsible for the commitments of the state enterprise.
An unincorporated state enterprise cannot operate in an open competitive situation on the market. It may provide services almost exclusively for central government administration and for such entities whose activities are mostly financed by appropriations included in the Budget. Implementation of financial responsibility is supported by Senate's annual corporate governance statement (corporate governance), Code of Conduct and internal audit guidelines and processes that guide activities. The Code of Conduct also outlines Senate Group's ways of working such as preventing corruption, bribery and discrimination.
Organisation of the Group's responsibility
Steering of the Group's responsibility work has been assigned to the director of corporate social responsibility, who reports to the Group President and CEO and to Senate's Board of Directors. The director of corporate social responsibility is responsible for the planning, development and coordination of the various areas of activities from the social responsibility aspect. In addition, Senate Group has a social responsibility team and a social responsibility steering group, which meets regularly. The social responsibility team and steering group are tasked with developing, planning and implementing social responsibility practices and with acting as a communications channel between units and processes. The environmental services and social responsibility unit provides environmental protection research and construction management services. The unit is headed by the director of corporate social responsibility. Expert teams have been appointed separately for the key areas of social responsibility.