Shared work environments
In line with the Government Premises Strategy, we implement shared work environments as a service. Going forward, public administration will increasingly operate out of shared premises and even though government is going digital, government agency services are still required. Where government agencies are found at the same address, there is no need for citizens to visit many different service points.
What is a shared work environment?
A shared work environment is where several different agencies work in the same building and basically share the same work environment, including spaces and services. A shared work environment promotes multi-location working irrespective of place and reduces the carbon footprint through improved space efficiency and less mobility, for example. We provide our clients with ready work environments, complete with all premises, digital and security services.
Sustainable and responsible use of space
Digitalisation and the coronavirus pandemic have accelerated new ways of working. People switched to remote working and adopted multi-location working. It seems occupancy rates have remained low and office premises are vacant. Premises that are not needed will be phased out in an orderly way by moving to shared work environments in line with the Government Premises Strategy. Phasing out empty premises delivers savings, reduces emissions and increases flexibility in the use of premises.
Network expanding in stages
Based on the shared work environments concept, we implement effective work environments in premises in the largest cities in the regions. The premises network gives freedom of choice to do multi-location work where you are and live. In line with the Government Premises Strategy, Senate Properties is developing shared work environments for central government and will implement them in 15 different localities by 2025.
Sesam Kuopio yleiskuva tiedotteeseen
Shared work environments are activity-based
An activity-based shared work environment includes various spaces with different emphases on work requiring concentration and interaction, for example. Flexibility in the use of an activity-based environment allows personnel and organisational changes without the need to modify the premises. The freedom to choose a suitable work environment boosts job motivation and collaboration between agencies. Greater interaction leads to ideas, creativity and learning from each other.
Read more about activity-based environments
Central government in-person services will be combined by 2030
The Ministry of Finance published its reform of the central government's services and premises network in 2022. Reform of the services network aims to develop central government premises so that by 2030 a quarter of central government employees would work in shared agency and public body work environments. Shared customer service points will ensure citizens have equal access to services across the country. The aim is also for the premises to support the creation of a good customer and employee experience.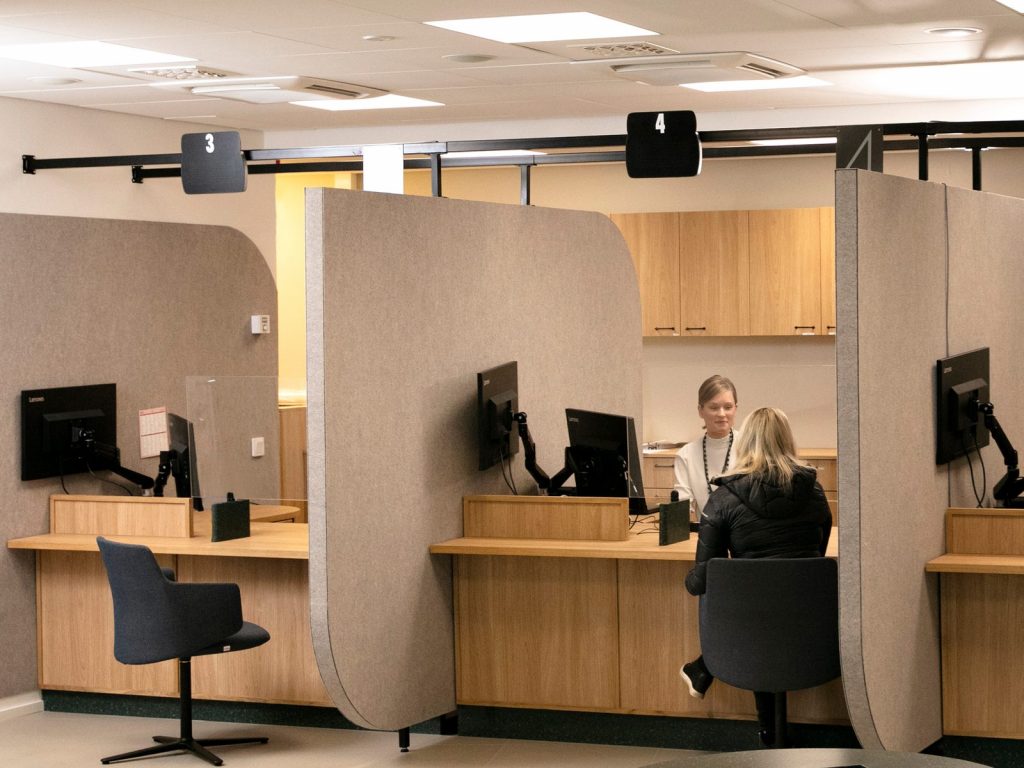 Shared work environment projects
Shared work environment premises are currently underway in Pori, Joensuu, Lahti, Lappeenranta, Mikkeli and Kouvola, for example. For example, in the Pori project, central government and city of Pori customer service premises will be centralised to make them easily accessible to the people of Pori. The project will also implement shared activity-based type working spaces for different user groups.