Reetta Ripatti-Jokela, Head of Workplace Solutions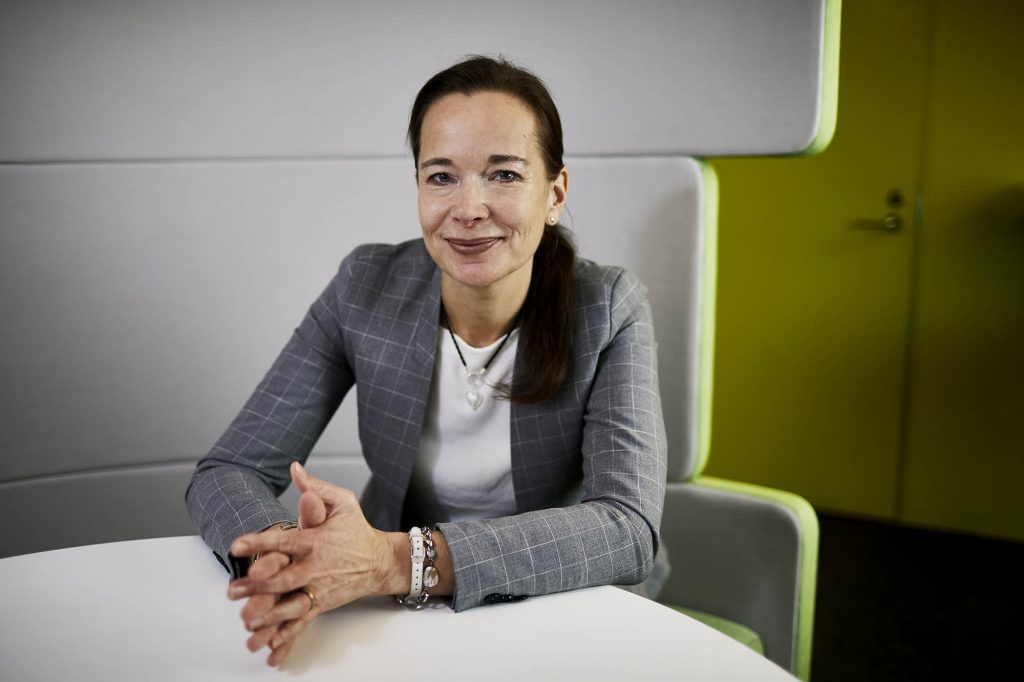 Changing workplaces
Reetta Ripatti-Jokela, who leads the workplace unit, assists clients who need support in designing and implementing comprehensive changes to their workplaces and in the process of change management and adopting new ways of working.
What does your job involve?
At Senate Properties, I lead a nationwide workplace unit currently consisting of around a dozen leading specialists in workplace development, change management and knowledge work.
We implement activity-based environments for our customers according to the Government Premises Strategy. These include new types of space solutions as well as new ways of working. It is not just a question of making changes to premises but rather the comprehensive development of the operating culture. And to top it all off, clients also make savings in their premises costs: less space is needed in activity-based environments as the space is used more efficiently.
A common starting point in workplace change projects is the rationalisation, modernisation and intensification of the use of space. Clients often transfer the use of some of their premises to other organisations as they no longer need them. Organisations also merge, which means that operations are combined, and it is necessary to rethink space issues and ways of working.
We provide our customers with comprehensive support – from beginning to end – when they make changes to their workplaces. We work with them to produce a work environment concept that supports the organisation's strategy and operations, we support the management in the smooth implementation of the change in operating culture and we help to introduce new ways of working. We also carry out measurements of the efficiency of knowledge work, which we use to help organisations to develop their operations.
What are the targets of your team's work?
Our basic message is that the work environment should be seen as a strategic resource and an active part of management. This will ensure that it supports the targets and processes of the core operations.
Management of a productive workplace requires the cooperation of solid expertise and the organisation's support functions. In other words, the following functions – real estate administration, HR management and data administration as well as communications, finances and corporate social responsibility – need to be included in workplace management.
What opportunities does the future offer your work?
The operating environment is changing all the time and there seems to be no end in sight for the development of knowledge work and workplaces. Therefore, an attitude that is open to change and flexibility are key prerequisites when developing sustainable models of working and workplace solutions that support them. We are only just starting to understand the possibilities of digitalisation and the extent of the change.
The breaking down of silos, hub-type work environments and the concept of co-working are all becoming more common. This forms the foundation for Sesam, Senate's activity-based environment for co-working in the Sörnäinen district in Helsinki. All government employees can go and work there. In the future in state administration it will be possible to open co-working premises all over the country and thus smooth the cooperation between the employees in different organisations and boost networking.
Three principles that guide your work?
A good work environment is not just a space, it has physical, virtual, social and temporal dimensions. These must all be considered.
Nothing must be left to chance. Implementation of workplace change must be made as easy and smooth as possible for our customers. We provide them with all our support here.
We have launched a smart work concept at Senate, which we want to use to promote new ways of working in all the government's work environments. The concept is based on a multi-locational activity-based environment where digitalisation ensures that work progresses smoothly. The concept's sub-areas include prioritisation and arrangement of work, communication, cooperation, learning and wellbeing.
CV
Education: Architect
Previous employers: Senior consultant in work environment development at Evata Finland Oy and the Pöyry Group
Projects and working groups: Involved in establishing the state administration's Työ 2.0 project and has participated in numerous workplace research, development and cooperation projects in Finland and abroad