Anne Korpi, Specialist, Indoor Climate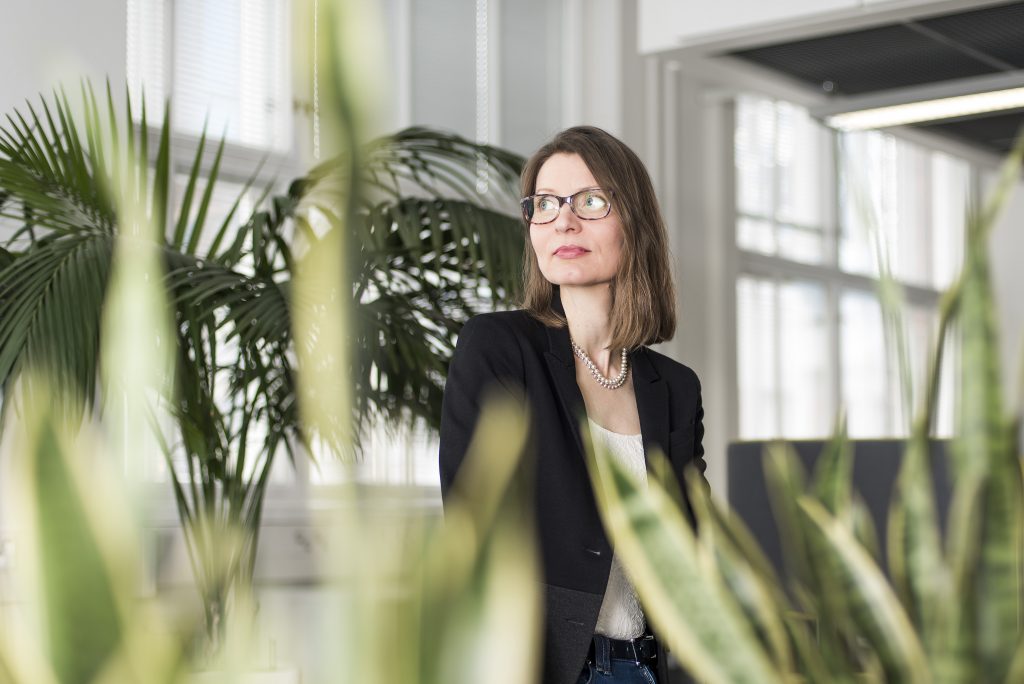 Ambassador for good indoor air
Anne Korpi, Specialist, Indoor Climate at Senate Properties, develops the indoor climate at government workplaces and does all she can to reduce indoor air problems and improve working conditions.
What does your job involve?
One of my key duties is assessing our guidelines and practices related to indoor conditions in terms of their relevancy and effectiveness. These guidelines and practices should reduce indoor air problems, improve job satisfaction and promote well-being at work.
I'm the leader of the indoor climate team at Senate Properties, and I'm responsible for organising its operations. The team has 17 members, who put their heads together to improve indoor air quality.
The focus of my work is shifting from improving buildings with poor-quality indoor air towards fostering the health of properties. In accordance with the proactive action plan for indoor conditions, this requires buildings to be designed and constructed carefully, their facilities to be used wisely and maintenance and repairs to be carried out in a timely manner.
In addition, the data from continuous indoor climate measurements must be processed, feedback from users must be analysed to identify development needs and properties must be maintained and cleaned carefully.
What are the goals of your team?
Our goal is to integrate aspects related to indoor climate into all of our operations – from facility solutions to construction and property maintenance.
Our primary goal is to support our property and development managers' work. For that purpose, the experts in our team collect views and instructions related to indoor air, in addition to preparing models, guidelines and instructions for predicting indoor air quality and solving problems.
I believe that indoor air problems will decrease through our proactive programme, and we will be able to focus on promoting health and well-being through construction engineering, with a little help from digitisation.
Three principles that guide your work?
Our job is to eliminate indoor climate problems arising from construction or buildings. We have healthcare professionals to turn to when symptoms caused by indoor air are related to individual sensitivity, for example. Research in the field helps us better identify ways to help people suffering from symptoms caused by indoor air and environmental sensitivities.
We build facilities for people. Their level of satisfaction determines our level of success in our work. Perfect satisfaction is not possible, but we seek to apply a zero tolerance approach to indoor air problems.
High-quality indoor air is an integral part of our service network's day-to-day operations. Guidelines and quality manuals alone are not enough. Their content must be integrated into all construction and property maintenance.
What is the most significant future trend in your field?
Sustainability, which also means that people will increasingly be working for the common good. In my field, this would mean that facilities are built, maintained and used more and more responsibly. For example, all construction work will be carried out as carefully as if you were building a home for yourself or your child.
Today, health-related aspects are as important in the development and manufacture of building materials as are, say, energy efficiency and safety of use.
The negative effects of climate change also concern construction and the use and maintenance of buildings. To be able to prevent moisture damage and indoor air problems, we must prepare for extreme weather phenomena.
CV
Education: PhD, Docent, exposure and health risk assessment of indoor air contaminants
Previous employers: University Properties of Finland Ltd and University of Eastern Finland.