Renovation of Defence Forces' barracks is progressing – the buildings are regularly inspected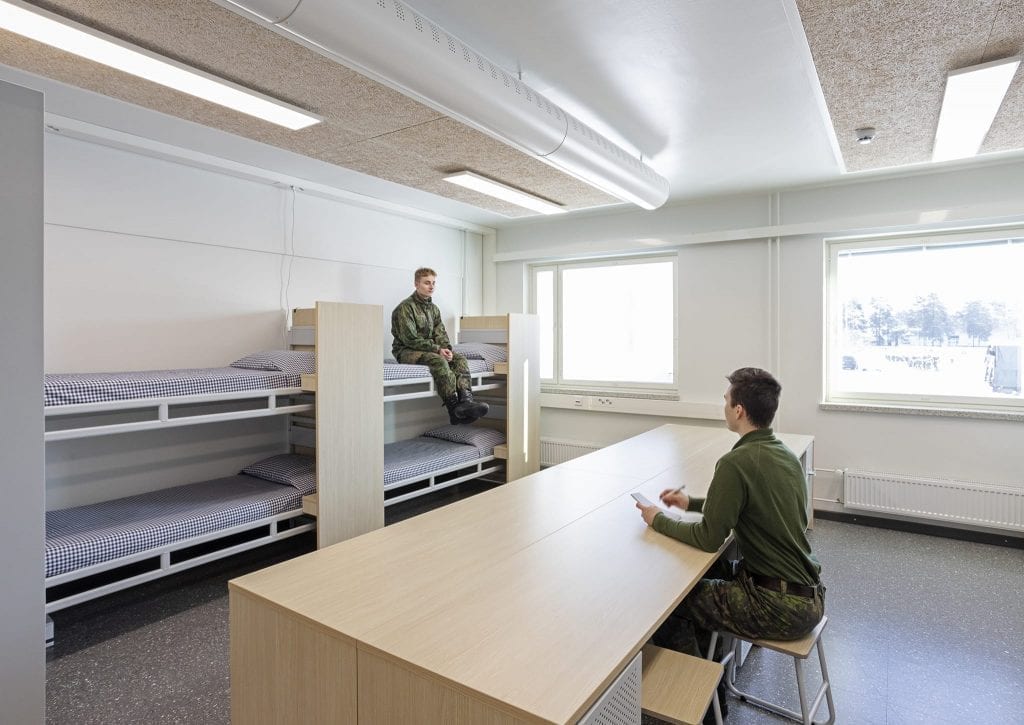 More than 11,000 conscripts are beginning their military service today, 3 July. Many of them will be accommodated in modernised barracks. More than half of the nation's accommodation quarters have been renovated in the 2000s. Defence Properties Finland ensures quality indoor conditions also by pro-action such as regular building inspections, indoor air surveys and maintenance measures. Conscripts are responsible for cleaning their quarters in particular and this also affects indoor air quality. 
Defence Properties Finland, which is responsible for Finnish Defence Forces' properties, have this year completed an extension of the barracks in Rissala as well as renovation of the barracks in Parolannummi and Dragsvik. In addition, two old wooden barracks have been demolished in Upinniemi and replaced by new temporary quarters built for conscript accommodation. 
Renovation of conscript accommodation is currently underway in Utti, Upinniemi and Rovaniemi. A start has just been made on demolition of the old barracks in Rissala and new construction is being designed. The goal is that all accommodation quarters in Finland will have been renovated in the 2000s by the end of this decade. 
Renovating barracks includes the replacement of ventilation and other mechanical and electrical systems and carrying out the necessary extensive modernisation of structures and surfaces. The indoor conditions in today's barracks will remain better going forward since the facilities where equipment is dried have been located on a different floor to the accommodation floors and tents and other equipment used in the field are stored in separate drying buildings. 
Regular inspections of structures and ventilation
Regular inspections of structures and ventilation are carried out in Defence Properties Finland buildings. These inspections focus particularly on factors affecting indoor conditions. Building inspections of a total of around 300 buildings have been carried out between 2019–2022. Inspections of barracks structures and ventilation are carried out every three years. 
"This year we will carry out around 160 building inspections. Inspections provide us with valuable information about the condition of buildings and the need for further investigation. Once the condition and need for repairs have been established, we are able to correctly allocate and time any repair measures to effectively improve the indoor conditions of buildings," explains Hanna Tuovinen, Indoor Air Specialist at Defence Properties Finland. 
Low threshold to report indoor air

issues
The basic approach of Defence Properties Finland's zero tolerance programme for bad indoor conditions is that thanks to proactive indoor air measures, the development of indoor air expertise and well-functioning communication, indoor air issues do not take us unawares. Defence Properties Finland's people, including cleaners and property maintenance, make continuous observations of anything affecting indoor air quality.  
"We have a low threshold and encourage Defence Property Finland's employees and conscripts to report any indoor air issues they detect. All reports of indoor air issues we receive lead to an investigation," Tuovinen says. 
Building users can contribute to good indoor air quality by among other things keeping premises tidy and easy to clean. The new indoor air learning material produced by Defence Properties Finland for conscripts was rolled out in January. The package of material includes an indoor air video and separate learning material. A similar package of material on cleaning was produced earlier.