"Sometimes Ness can work for hours on end. One session includes about 20 minutes of nose work, followed by a break of similar length. There can be several of these sessions in a row.
Training and work are a fun game for the dog. Tervuren is a type of dog that has been bred to work, just like my other dog, a Belgian Shepherd Malinois. As a breed, Belgian Shepherds are not very easy and I would not recommend one as a first dog.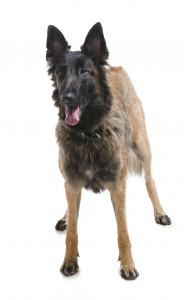 Ness is always very excited about work
Dogs like to work and they understand what they are doing. You have to maintain their skills continuously, however. We train searching about once each week. We search for smells found or placed in a building to reinforce the dog's sense of these smells. Ness has been trained to recognise different types of mould that indicate moisture damage. The more she works the more she learns.
We come to the scene when others have been unable to locate any problems, or users of the property are still suffering from symptoms despite any measures that have been taken. The dog's role is to reveal the need for more in-depth inspection and to locate any problems. At Senate Properties we use the dog on anticipatory visits and to inspect observed sources of smell. Most problems involve hidden microbial damage that humans are unable to discover without pulling down structures.
When we enter a new place, I can easily tell from Ness if we will find any mould
Ness clearly gets more excited when it smells like there is something to discover in a room. If there is nothing amiss, Ness will sometimes indicate right away that we won't find anything here, but let's do this anyway. All dogs have their own way of indicating their observations. Ness will try to dig out the source of the mould by scratching at it.
When used correctly, an indoor air dog is a great help but the trainer must always be aware of what the dog is looking for and what it could discover. Interpretations about the type of problem based on a dog's reactions can easily be exaggerated if the indicated places are not inspected otherwise, too. At Senate's properties inspections are always carried out by an indoor air specialist when a dog marks a spot.
I always reward Ness for good performance
Being rewarded for work is important for a dog because they need to feel they have done well, and rewarding them keeps them sharp. Sometimes we come across only clean spaces. When a dog cannot find anything it does not get to feel like it has done a good job. In these cases I plant some damage and let the dog find it, otherwise it will start thinking there is nothing to discover anywhere. Ness's reward is usually a ball or a rag.
Lately Ness has worked one day per week on average. When she is not working, Ness leads the normal life of a dog. We do different dog things, such as tracking, nose work and basic obedience training. Ness has no sporting goals and is mainly a working dog and does other things for fun."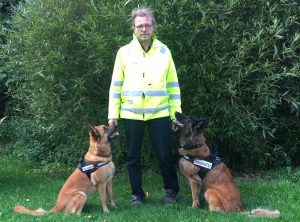 Risse Koponen is Property Manager at Senate Properties and master and trainer of indoor air dogs Ness and Maikku. He is also a trained structural health specialist.