Katri Kallio-Koski, Corporate Social Responsibility Specialist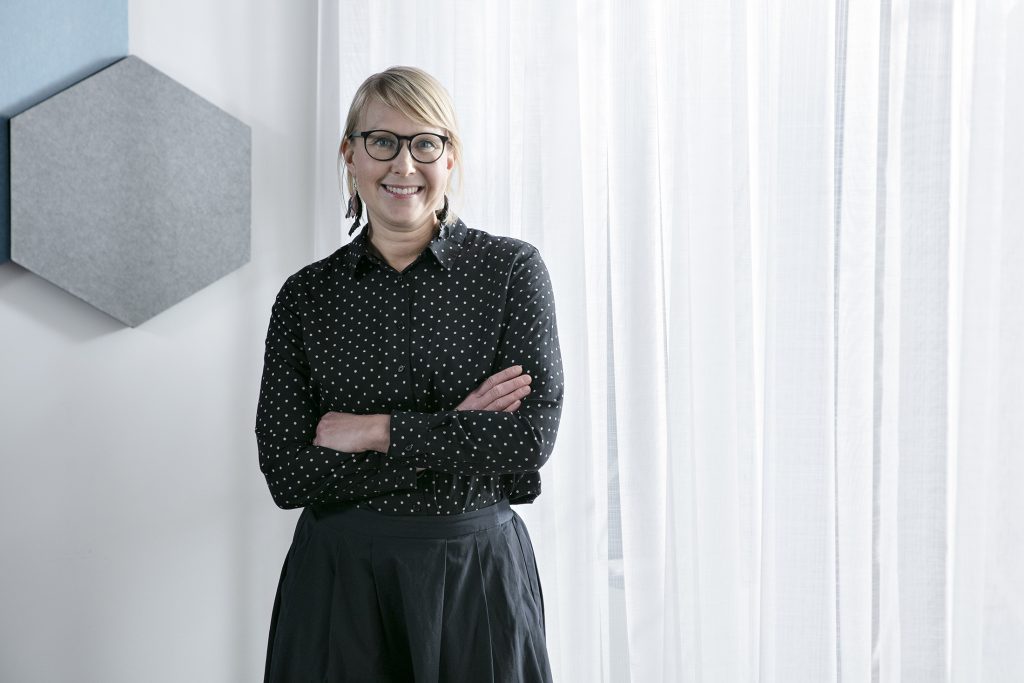 Fostering social responsibility
For Katri Kallio-Koski, Social Responsibility Specialist at Senate Properties, it is important that she lives out her values every day at work. She appreciates Senate's positive attitude towards social and environmental responsibility, as well as her colleagues' initiative in promoting sustainable development.
What does your job involve?
I'm responsible for developing and maintaining our comprehensive ISO 14001 environmental management system, which lays the practical foundation for our sustainability work. Senate has also included social and economic responsibility in the system.
We set goals annually and determine the necessary measures and indicators for our social responsibility programmes. In 2019, our programmes are focusing on promoting the circular economy, reducing energy consumption, using space more efficiently and improving the sharing of resources. We monitor progress regularly within our programmes, and a third-party auditor reviews our entire sustainability system annually.
My job also includes developing and supporting sustainability in terms of property maintenance, as well as coordinating projects related to managing contaminated soil and preserving the diversity of nature.
Cooperation with stakeholders is an essential part of my work, and reporting on social responsibility is my largest project each year. I also maintain the WWF Green Office system at Senate and support our customers' environmental work in close cooperation with WWF.
What are the goals of your team's work?
I don't have a team of my own. Instead, I work towards our social responsibility goals with various teams and units. This suits me well, as I'm outgoing and appreciate interaction with experts in various fields and with stakeholders. This is why I also like working in an activity-based environment.
I'm responsible for preparing the agenda for our social responsibility steering group, which coordinates the sustainability aspects of our operations. I'm also a member of Senate's energy efficiency development group, and I'm involved in preparing a national system for competitive bidding processes for waste management. At the moment, I'm also cooperating with our work environment unit. We seek to develop work environment modification projects in terms of social responsibility. Within our WWF Green Office network, we are developing more environmentally friendly practices in cooperation with our customers.
What opportunities does the future offer your work?
More and more attention is being paid to social responsibility in working life. For this reason, we no longer need to explain why our work is important. Instead, issues are addressed quickly. Challenges related to climate change concern all sectors of society, and effective action is needed immediately.
Since the release of a new report by the Intergovernmental Panel on Climate Change in December 2018, people have become more aware of climate issues. The report discussed emission pathways and measures to limit global warming to 1.5 degrees. Responding to stricter emission and energy efficiency requirements by means of environmental load management throughout the life cycle of a building is a motivating challenge. In addition, reducing the ecological footprint of a property holds enormous potential for improving cost-efficiency and customer satisfaction.
My interest in the construction and real estate sector arose when I was studying at Helsinki University of Technology. I feel successful in my job when I can help my colleagues and our stakeholders take social responsibility into account in various projects, as well as in day-to-day work and choices. During my time here, Senate has always had a very positive attitude towards social and environmental responsibility. My colleagues show initiative in promoting sustainable development, and together we are trying to find ways to consider the environment even more comprehensively.
Three principles that guide your work?
Sustainable development. I want to create something good.
I believe in my work. It is important that I can live out my values at work.
Sensible time management. I challenge myself continuously by asking myself two questions: why and how? I'm willing to change my ways of working. These are the busiest years of my life. I cannot afford to work inefficiently.
CV
Education: MSc (Tech.), Environmental Technology and Civil Engineering, Helsinki University of Technology, 2007.
Previous jobs: Project Manager, United Nations Collaborative Programme on Reducing Emissions from Deforestation and Forest Degradation in Developing Countries (UN-REDD), Zambia. Environmental Specialist: Vattenfall Heat Nordic and Skanska Oy.